Grove Place will be situated on the square city block at the corner of Earhart in Monroe Street. It is a scarce finding with as many historic structures and land within city limits. The land has approximately 360 ft. of frontage on Earhart Boulevard and makes up a total of 1.8 acres.
The proposed development has a total of 32 residential units in the development, with a mix of 2 bedroom/1 bath, 1 bedroom/1 bath, and 2 bedroom/2 bath. The development would include 23 historic rehabilitated units and 9 newly constructed units in a new building at Earhart Boulevard and Monroe Street.
It is proposed that all units will share a community green space that will open at the rear of each unit. Off-street parking will also be provided. We propose to upgrade the vacant lot to a housing complex for that parcel of land. This project also aligns with the city's Place Based Strategy as outlined by the City of New Orleans 2017-2021 Consolidated Plan.
The objective is to create a high-quality neighborhood housing community that will enhance and improve the housing stock in Hollygrove by redeveloping this block which has been vacant before Katrina. We believe that this development will encourage and spark new interest to other developers, which will only enhance and increase the quality of life for this community that has long been overlooked.
PROJECT IN DEVELOPMENT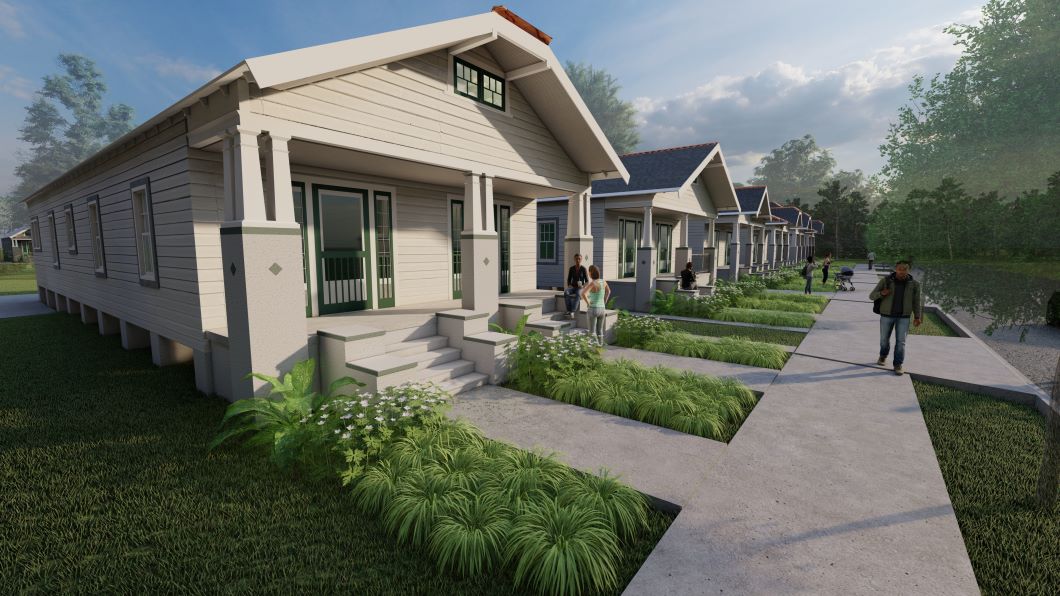 SCHEDULED COMPLETION
WINTER 2023
UNIT MIX
32 RESIDENTIAL UNITS